What measures will accompany us in the coming weeks?
for the check in you need a current 2G status for adults and children from 12 years onwards
FFP2 - masks compulsory for adults and children from 12 years in all indoor public areas
children from 6 - 11 years of age are required to wear a mouth-nose protection in all public indoor areas
Closing time at the hotel bar 11 p.m.
WHAT DOES THE 2G MEAN IN CONCRETE TERMS?
2 G = VACCINATED OR RECOVERED (up to a maximum of 6 months after contracting the disease). Proof of neutralising antibodies is not valid here. This applies to adults and children over 16 years of age. For children from 12 to 15 years the HOLIDAY NINJA PASS is valid.
NEW REGULATIONS FOR ENTRY TO AUSTRIA - VALID FROM MONDAY 20.12.2021: 2G +
That means: Your current 2 G status PLUS a valid PCR test (72h) or a BOOSTER VACCINATION
COHESION – CONSIDERATION
– RESPECTFUL INTERACTION:
Always a matter of course for us but now even more important!
The Hotel Gletscherblick was already more than 60 years ago and over the years generously laid out and renovated. So that you as a guest can develop the full vacation atmosphere, we have focused on the best possible organization in the implementation of the new safety measures.
We are not only in constant exchange with the authorities, but also pay special attention to our health. Even before "keeping our distance" was on everyone's lips, we lived by the principle of mindfulness. Mindful in dealing with people, nature and resources.
The small 1 x 1 of the Corona Rules:
Keep your distance - we have a lot of indoor and outdoor space with limited room occupancy.
1 meter distance to strangers in all areas
Wash hands regularly
Please do not shake hands. We are happy to show our appreciation in other ways.
When entering the hotel as well as going to the buffet, please disinfect your hands. Disinfectants can be found at all entrances, in the restaurant and wellness area
Gloves for serving at the buffet will be provided
You will receive a fixed regular place
For the use of the sauna, if necessary, the opening hours will be extended.
In case of signs of illness do not travel In case of signs during the stay contact the host.
Measures are continuously adapted to the official guidelines of the Austrian Federal Government - please note that changes may occur at short notice!
NOW IS TIME TO PLAN AND LOOK FORWARD - your travelling to austria:
The most important at a glance
Distance regulations: We have a lot of indoor and outdoor space with limited room occupancy.
All public areas are equipped with disinfectants and are cleaned on an ongoing basis. Handrails, door knobs, elevator buttons and surfaces are disinfected at regular intervals.
Cleaning with the Hollu cleaning concept by our trained staff.
A freshly disinfected room is available to you upon arrival. Room cleaning is carried out according to the HACCP color control system. We use our own cleaning utensils for each room.
On request more privacy by lower room cleaning.
Please note that during room cleaning only the maid is allowed to be alone in the room.
Arrival & Departure
We welcome you from 15.00 o'clock
The check out time remains unchanged at 10.30 am - we ask you to adhere to the check out time & release of the rooms to ensure the cleaning & disinfection intervals for you.
Please note that we cannot offer early arrival & late departure with use of the wellness area!
You can check-in in advance online via our APP. Here is the link no mask requirementto the APP: https://portal.gastfreund.net/hotel-gletscherblick-mittelberg
Mouth-nose protection
MOUTH-NOSE PROTECTION OBLIGATION
FFP2 - masks are compulsory for adults and children aged 12 and over in all indoor public areas
Children from 6 - 11 years of age are required to wear a mouth-nose protection in all public indoor areas
Hotel bar | Lounge
Closing time at the hotel bar because of covid-regulations at 10 p.m.
Culinary
In the restaurant you have a reserved table for the duration of your stay and with sufficient distance to the seat neighbors. We thank you for your understanding that specific table requests are not possible at the moment due to the maximum "table occupancy" to be observed and the minimum distances to be maintained.
The daily menu, wine list & bar menu are now also available in digital form - directly via your own device (QR code) and via our "Gastfreund-APP".
Buffets take place in compliance with hygiene regulations (hand disinfection before each buffet course or gloves) and with the necessary distance. You can enjoy dinner as before. Tea and fruit are still available in the spa for free withdrawal.
SPA area | Saunas
The saunas are open. The maximum number of people per cabin is marked. The general distance rules apply here as well.
The steam bath is open - for individual use or for use with people from your own family.
Opening hours will be adjusted if necessary (longer opening hours).
Massages & treatments in the Haslauer tub
Spa treatments are not offered at the moment.
Fit & active
Our gym is at your disposal. For your safety, only people living in the same household are allowed to work out at the same time.
Courses, activities & hikes with our guides take place in smaller groups and in compliance with the distance rules (possibly limited number of participants).
Measures of the mountain railroads
NEW: Ski passes can be purchased directly at our hotel.
All further information can be found here ->>>
Covid-19 commissioner / Covid-19 prevention concept
In the course of the reopening planning, we have implemented a Covid-19 prevention concept for your safety. A lot of processes and contracts for all processes and departments in the house have taxes. It contains for all cleaning and disinfection plans, rights, requirements for handling, general guidelines and official intervals. This concept is conveyed and adapted to the new government guidelines.
Adjusted cancellation conditions
"Sichere Gastfreundschaft"
It means that all our employees are tested weekly for Corona, that the hygiene protection measures that are already in force are strictly adhered to and implemented by us. Together we create a safe environment for a relaxed and, above all, healthy break!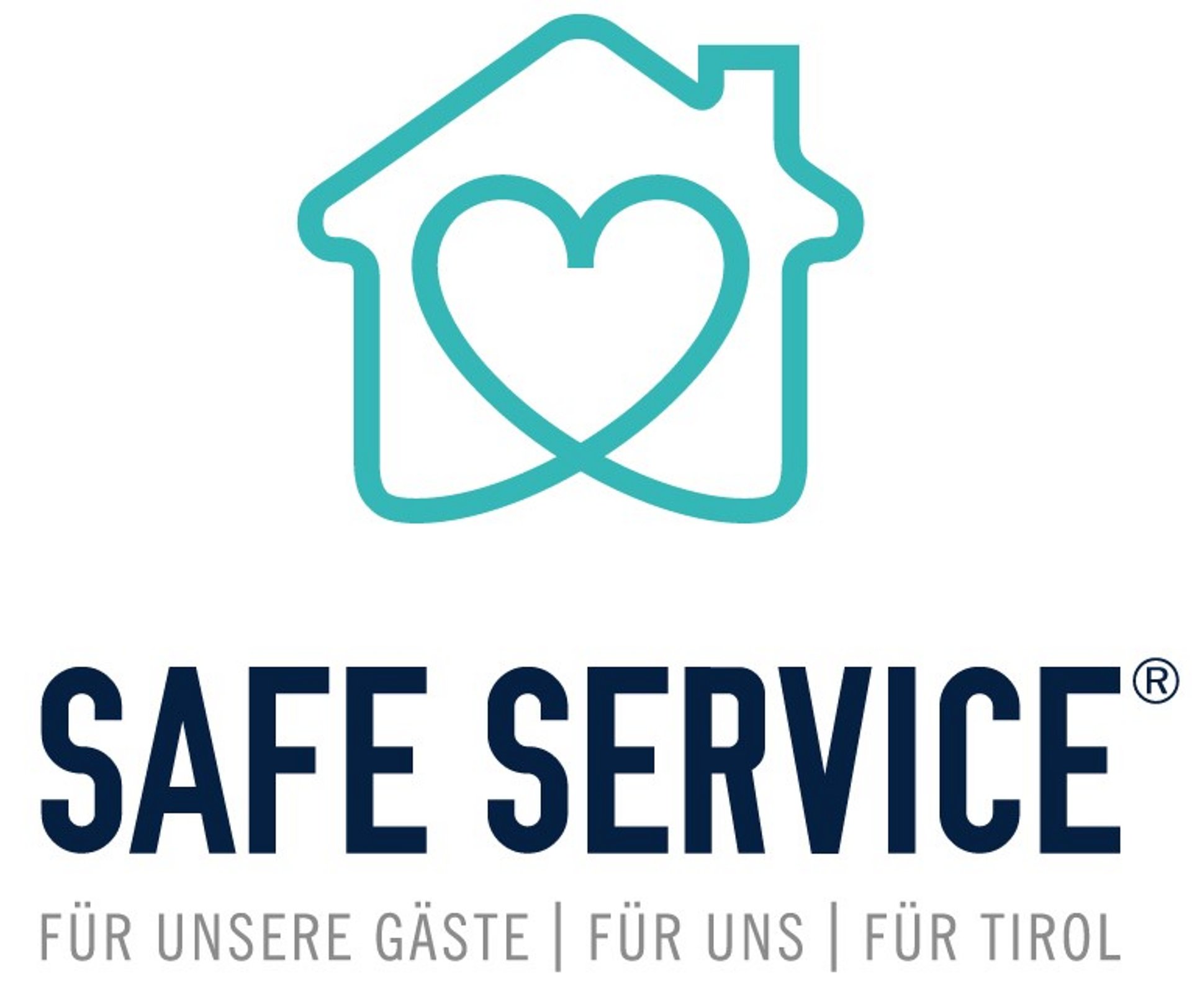 SAFE SERVICE®
Tyrol's tourism insists on certified security - and we are there: We perceive our role as trustworthy and secure and use the "SAFE SERVICE" learning app as a modern training tool for our employees.
Our company has had digital training on security topics such as protective measures, distance rules, hygiene or contactless customer experience more successfully. New regulations, for example on admission tests, guest registration and prevention conventions, are also part of the training. If the app is rejected directly via push notification on the mobile phone.